ARGYLE, WISCONSIN:
BOYHOOD HOME OF BOB LA FOLLETTE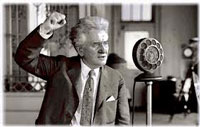 Robert "Fighting Bob" LaFollette was an outstanding orator and a leading voice in the Progressive Movement of the Republican Party during his political career. He earned his nickname as a vocal opponent of railroad trusts and the influence of political bosses.
LaFollette represented Wisconsin's 3rd Districe in the U.S. House of Representatives (1885-1891). He was the 20th Governor of the State of Wisconsin (1901-1906), and a U.S. Senator from Wisconsin (1906-1925). He ran for President of the United States as nominee of his own Progressive Party in 1924, carrying Wisconsin and winning 17% of the popular vote.
A 1982 survey of historians ranked the 10 greatest senators in the nations history, based upon their accomplishments in office and long range impact on American history. LaFollette placed first, tied with Henry Clay.
Bob LaFollette was born June 14, 1855 in the town of Primrose WI to mother, Mary Ferguson, and father, Josiah LaFollette. His father died one year later and in 1862 his widowed mother married the 70 year old John Z. Saxton and the family moved to Argyle. Saxton was a rich man who owned land and operated a store in the village, but was hard of hearing and a strict disciplinarian, making LaFollette's upbringing in the home quite unpleasant.
LaFollette lived in a frame house at a crossroads in the very center of the village. The house was built by his stepfather and James Seymour Waddington. The oak boards had been cut in the local sawmill. The house was shared by the two families until Waddington built his own home. Famously known as the boyhood home of Robert LaFollette, the "Saxton House" has been designated as a Wisconsin historical site, and is being restored by Historic Argyle, Inc.
As a young man, LaFollette left Argyle to manage the Primrose farm and to attend the University of Wisconsin. He married Belle Case and fathered four children, Robert Jr., Phillip, Fola, and Mary. He died in Washington D.C. in 1925, one year after his unsuccessful Presidential bid.